Jay's Auto Sales was established in 1986 by Founder Joseph J. Pace (1935-2008). He came to Wadsworth with the thought of helping people with challenged credit attain a quality used vehicle they can count on. Since that time we have helped thousands of area residents with their transportation and credit needs.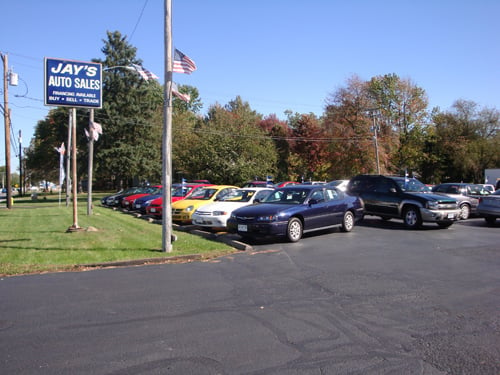 We offer a relaxed, no hassle atmosphere regardless of past credit issues. Approval is quick and easy at Jay's. Customers are treated with respect and dignity before, during, and after the application process. Down payment requirements are reasonable, and we offer affordable weekly, bi-weekly, or monthly payments.
As a Family owned business, all of our vehicles undergo a thorough safety check in our service garage as though they will be driven by one of our own Family members! It does not stop there. We stand behind our vehicles after the sale and provide a 30 day 1,500 mile warranty. After the warranty period expires, we offer our customers service work at a discounted price.
Here at Jay's, we have been building relationships for soon to be 27 years. As our Founder often used to say, "We know people". By way of these relationships, in which our customers are more than an account number, we have helped many of our customers establish credit, and even reestablish credit. Many of our customers, who now have a solid credit score, chose to come back to Jay's! Eight out of ten cars we sell are to people who are referred to us by friends or Family members who have been satisfied with their buying experience at Jay's.
If you would like to see if you qualify, you can apply on this website, or stop in to see our inventory and meet our staff. The application process takes about 15 minutes. Some things you will need to provide to see if you qualify are a valid Ohio driver's license, proof of residency, three most recent paystubs, five personal references, a reasonable down payment, and ability to put full coverage insurance on the vehicle.
Thank you for taking time to read about us, and we hope you will make the "smart choice" and purchase your next vehicle at Jay's Auto Sales.
The Team at Jay's
Contact Us